In the Wake of Progress: Insights from the artist
Back to
Stories
August 18, 2022
Words
Delve deeper into the meaning and making of In the Wake of Progress.

The breath-taking patterns and epic panoramas of our planet are choreographed to a compelling original score for In the Wake of Progress, a 22-minute art experience 40 years in the making.
Acclaimed Canadian photographer Edward Burtynsky has spent half a lifetime capturing humanity's impact on Earth with exquisite artistry and extraordinary scale. Enrich your experience and delve deeper into the meaning and making of In the Wake of Progress as Edward Burtynsky unpacks his work below.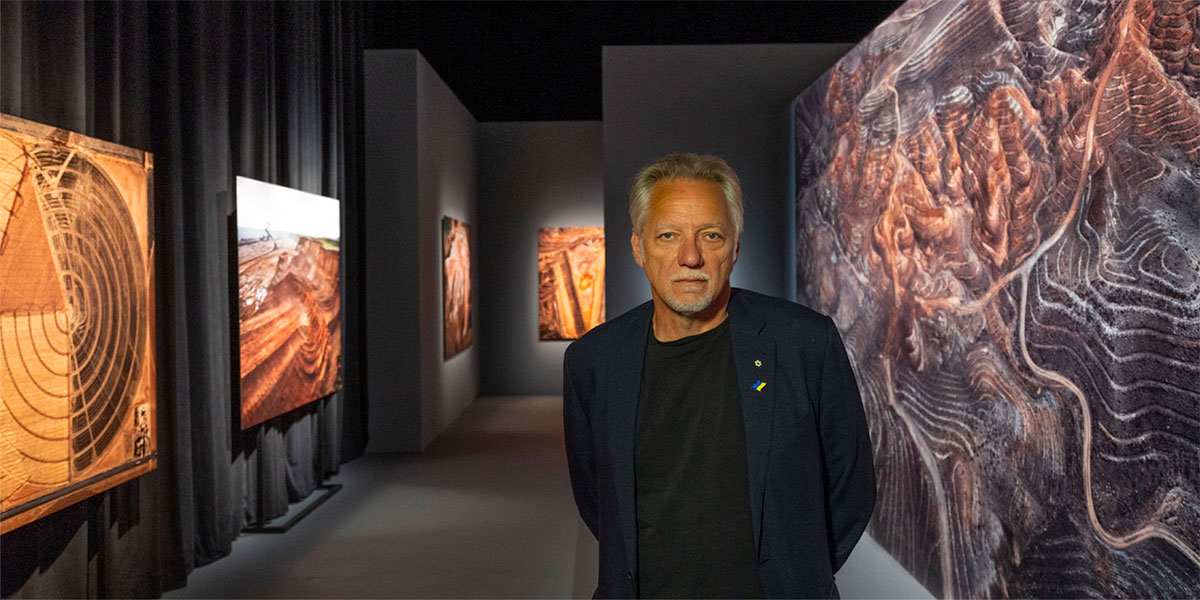 A NOTE FROM THE CREATOR
Exploring the Residual Landscape
Nature transformed through industry is a predominant theme in my work. I set course to intersect with a contemporary view of the great ages of man; from stone, to minerals, oil, transportation, silicon, and so on. To make these ideas visible I search for subjects that are rich in detail and scale yet open in their meaning. Recycling yards, mine tailings, quarries and refineries are all places that are outside of our normal experience, yet we partake of their output on a daily basis.

These images are meant as metaphors to the dilemma of our modern existence; they search for a dialogue between attraction and repulsion, seduction and fear. We are drawn by desire - a chance at good living, yet we are consciously or unconsciously aware that the world is suffering for our success. Our dependence on nature to provide the materials for our consumption and our concern for the health of our planet sets us into an uneasy contradiction.

For me, these images function as reflecting pools of our times.

– Edward Burtynsky


ABOUT THE CREATOR
Edward Burtynsky is one of the world's most accomplished contemporary photographers. His remarkable depictions of global industrial landscapes represent 40 years dedicated to bearing witness to the impact of humans on the planet. His photographs are displayed in over 60 of the world's major museums and most recently he was awarded the Outstanding Contribution to Photography (2022) title by the World Photography Organisation.
Learn more about Edward Burtynsky
here
.
BEHIND THE PHOTOGRAPHS

Stikine River, Northern British Columbia, Canada, 2012


Edward Burtynsky, on water:

"Over the course of the five years it took to make my Water series, and throughout the span of my career, really, I have learned a few things about water. When disrupted from its natural course there are always winners and losers. The moment water cannot find its own way back to the ocean or be absorbed by the ground, we are changing the landscape. When a stream or river is diverted, all life downstream is affected and remains altered until water returns. Insects, plants, frogs, the salamanders and countless other creatures - including people - have paid an enormous price because of our voracious appetite for water - and what we do to the earth while getting at it."
– Excerpt from the Water series Artist Statement

Cathedral Grove #2, Vancouver Island, British Columbia, Canada, 2017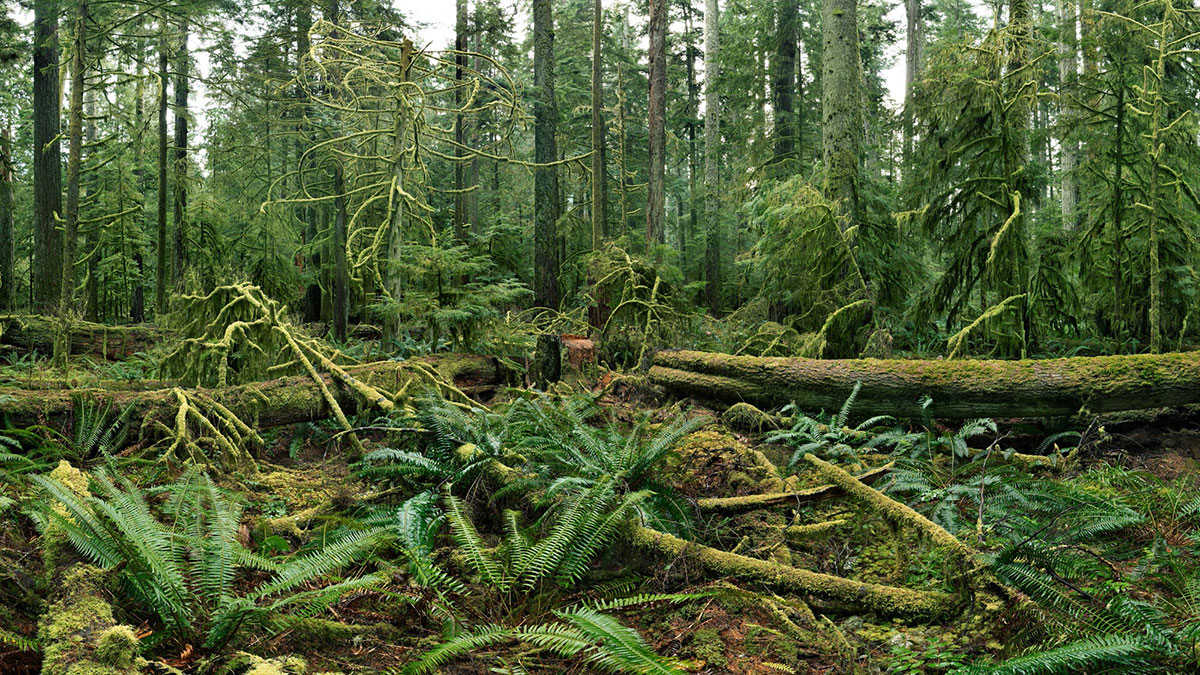 Today, 90 percent of BC's logging occurs on publicly owned Crown lands. While less than one percent of the province's forests are harvested annually, Vancouver Island's primary rainforests are logged at three times the rate of tropical regions. While a visitor to Cathedral Grove on Vancouver Island may be struck by the feeling that they are in an eternally regenerating woodland, they would be wise to note that such forests are as vulnerable as they are majestic."
– Excerpt from Anthropocene by Edward Burtynsky, Jennifer Baichwal and Nicholas de Pencier (Steidl, 2018)
Highway #2, Intersection 105 & 110, Los Angeles, California, 2003
Edward Burtynsky, on oil and cars
:
"One of my most liberating moments as a photographer came after graduating from University, when I received a grant to go and do my work. I remember starting up my Volvo and pulling out by myself on a four-month-long adventure.
When I first started photographing industry it was out of a sense of awe at what we as a species were up to. Our achievements became a source of infinite possibilities. But time goes on, and that flush of wonder began to turn. The car that I drove cross-country began to represent not only freedom, but also something much more conflicted. I began to think about oil itself: as both the source of energy that makes everything possible, and as a source of dread, for its ongoing endangerment of our habitat.
In no way can one encompass the influence and extended landscape of this thing we call oil. These images can be seen as notations by one artist—contemplating the world made possible through this massive energy force, and the cumulative effects of the industrial evolution."
– Excerpt from the Oil series Artist Statement

Shipbreaking #23, Chittagong, Bangladesh, 2000


Edward Burtynsky, on shipbreaking:
"The remarkable thing about the process of shipbreaking in Chittagong, Bangladesh was that the workers had no technology other than a cutting torch and whatever else they could find on the boats. Everything available came in the form of motors, wrenches and cables, and then the workers' bare hands. The shipbreaking in Chittagong still remains one of the most remarkable and unbelievable things I've ever witnessed.
There seemed to be such a disconnect in this place, a complete disregard for human life, health and the environment. I didn't know something like this could exist in that day and age. In many ways it felt like stepping back in time to the era of Dickens and the satanic mills, where human life was cheap. It seemed to answer the question: what does the world look like when there are no rules, no understanding of health and environmental consequences to the industrial processes they were engaged in?"
Oil Refineries #3, Oakville, Ontario, Canada, 1999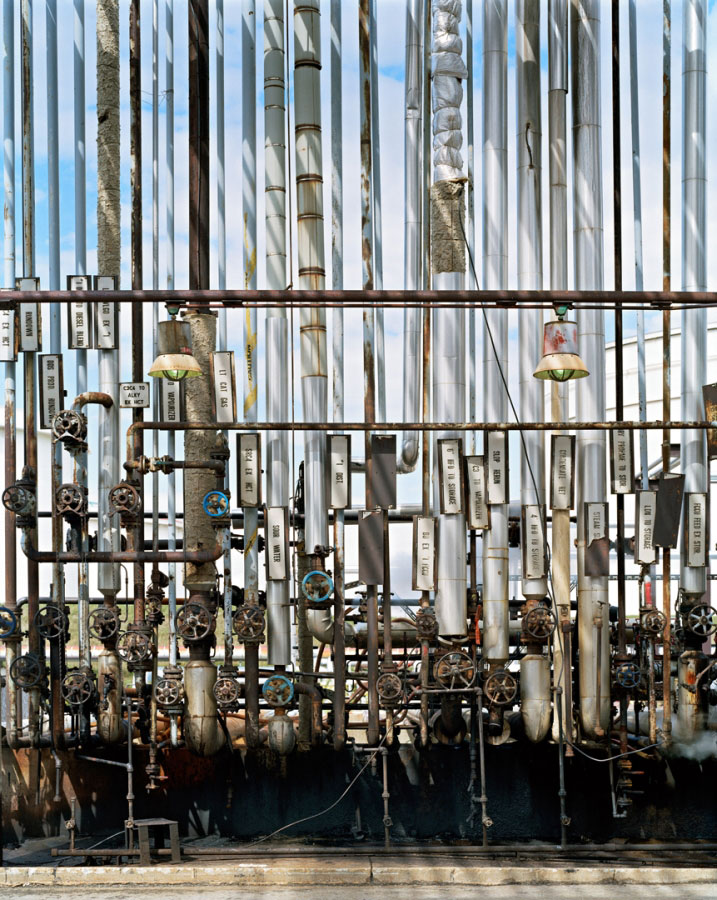 Edward Burtynsky, on refineries:
"All of the stuff that is extracted from the earth has to go through some process on the way to making the consumer goods of our culture. So, I turned to one of the first stages in the industrial metamorphosis, which is the refinery. It is an interesting counterpoint to see a mine that looks like architecture and a piece of architecture that looks organic. A refinery is clearly an architectural space but strangely inverted.
Typically, a structure contains a machine, but because the refinery builds up a lot of heat and expresses gasses, the internal workings of the machine are on the outside. I don't think when they build a refinery there is an overall vision of how it's going to be constructed. They simply want to find the most efficient machine that does the task and with that premise the structure unfolds. It was very interesting to me to work towards finding a way to visually reconcile that complexity."0

– Excerpt from interview with Michael Torosian, as seen in the Manufactured Landscapes book.

Densified Scrap Metal #3a, Hamilton, Ontario, 1997
Edward Burtynsky, on mining:
"I wanted to build a branch off the main core of my work and not locate it strictly within the realm of the landscape. I wanted to find the next place.
I considered that there is primary mining – we go to the land and we blast and we take ore – that is the initial extraction. And then there is the relatively modern phenomenon of recycling – the source for the secondary level of extraction. This is the "urban mine."
We've never stopped taking things from nature. Even the act of taking from the earth is natural since we are not outside of nature. What is different today is the scale. Current society is searching for a way to come to terms with that taking from the earth. Recycling is one way we can put a stop to a certain amount of damage to the earth. This material comes from and collects around urban centres in large recycling yards. These yards are like secondary mines."

– Excerpt from the Urban Mines series Artist Statement

Aqueduct #1, Los Angeles, California, USA, 2009


Edward Burtynsky, on water:

"Human ingenuity and the development of its industries have allowed us to control the Earth's water in ways that were unimaginable even just a century ago. While trying to accommodate the growing needs of an expanding and very thirsty civilization, we are reshaping the Earth in colossal ways.
In this new and powerful role over the planet, we are also capable of engineering our own demise. We have to learn to think more long-term about the consequences of what we are doing, while we are doing it. My hope is that these pictures will stimulate a process of thinking about something essential to our survival, something we often take for granted—until it's gone."
– Excerpt from the
Water series Artist Statement
CREDITS and ACKNOWLEDGMENTS

In the Wake of Progress

Conceived, Directed, Photographed and Filmed by Edward Burtynsky.
Commissioned by the Luminato Festival Toronto.
Produced by
Edward Burtynsky
Bob Ezrin
Julia Johnston
Immersive Experience Design & Direction
Brian T. Moore, The Mustard Shop
Alexandra Francis
Composer & Sound Design
Phil Strong
Featuring
iskwē
Musicians of The Glenn Gould School
Tour Producer
Caren Campbell
Edward Burtynsky Photography
Connie Hitzeroth
Julia Johnston
Karen Machtinger
Jim Panou
Marcus Schubert
Paul Sergeant
Alanna Joanne Smith
Technical Director
Duncan Macmillan
Technical Screens Producer
Sean Hooper, Carbon Arc Projects Inc.
Motion Camera
Edward Burtynsky
Nicholas de Pencier
Jim Panou
Mike Reid (Motion Camera/UAV Operator)
Kwamena Hazel (UAV Operator)
Devin Card (UAV Operator)
Chris Chanda (Cineflex Operator)
Connor Illsley
Jeff Powis
Noah Weinzweig
With some sequences taken from Watermark, and ANTHROPOCENE: The Human Epoch, collaborations with Jennifer Baichwal and Nicholas de Pencier (Mercury Films Inc.)
Score Produced & Mixed by
Bob Ezrin
Co-orchestrated & Conducted by
Claudio Vena
Recording & Mix Engineers
Jill Zimmermann, Jukasa Studios
Julian Decorte, Canterbury Music
3D Animation & Compositing
Alex Kurina, Victory Social Club
Tyler Dillman
Legal Counsel & Services
Navin Khanna, Chitiz Pathak LLP
Images Courtesy Of Nicholas Metivier Gallery, Toronto
Special Thanks To
Gregory Colbert
Richard Mahoney
Mat Wilcox
Shelby Wedgbury
Calin Rovinescu
Jennifer Baichwal and Nicholas de Pencier
Darren Entwistle
Omar Grant
Denyse Karn
Valerie McIlroy
Julian Sleath
Barry Shiffman
Alan MacDonald
Studio Musicians
Laurel MacDonald
Sarah Shugarman
Marie Berard
Brenna Hardy-Kavanagh
Luri Lee
Winona Zelenka
Jeffrey Beecher
Phil Strong
Musicians of The Glenn Gould School at The Royal Conservatory of Music
Byungchan Lee
Isabella Perron
Ji Soo Choi
Jessy Kim
Katya Poplyansky
Daniel Dastoor
Hez Leung
Ryan Davis
Leslie Ashworth
Ian Greenberg
Matt Christakos
Michael Cox
Edward Burtynsky Studio acknowledges commissioning support from:
RBC, TELUS, Hatch, Loblaw Companies Limited, The Michael Young Family Foundation, Gretchen and Donald Ross, O.C. Louise MacCallum and Michael Barnstijn, Richard and Donna Ivey, The Hal Jackman Foundation, Joan and Jerry Lozinski, Sandra and Jim Pitblado, C.M., Dasha Shenkman OBE
Image
© Edward Burtynsky, courtesy Sundaram Tagore Galleries, Hong Kong and Singapore / Nicholas Metivier Gallery, Toronto
Installation photo
Jim Panou