How to tell your Pinafore from your Penzance
Back to
Stories
December 16, 2020
Words
Everything you need to know about H.M.S. Pinafore
This January at Riverside Theatres, one of Gilbert and Sullivan's best-loved operettas gets a hilarious, sexy and sequin-spangled spin. But if you've never got the pleasure of see the real deal on stage, never fear, we've got a little explainer to get you primed...
Who were Gilbert and Sullivan?
"Hit factory" is a term applied to the likes of Motown Records, the Bee Gees and Stock, Aitkin and Waterman. But a century earlier, it could have been used to describe the Victorian-era team of W.S. Gilbert and Arthur Sullivan.
One of the most unlikely partnerships in music (one brilliantly captured in Mike Leigh's film Topsy-Turvy), Gilbert (playwright and lyricist) and Sullivan (composer) delighted audiences with a string of witty and satirical operettas including The Mikado and The Pirates of Penzance. Their early hit H.M.S. Pinafore, written in 1878, remains among their best-loved and most performed works.
Like a lot of hit factory partnerships, the end was an acrimonious one, when Gilbert and Sullivan fell out over – of all things – money spent on a carpet.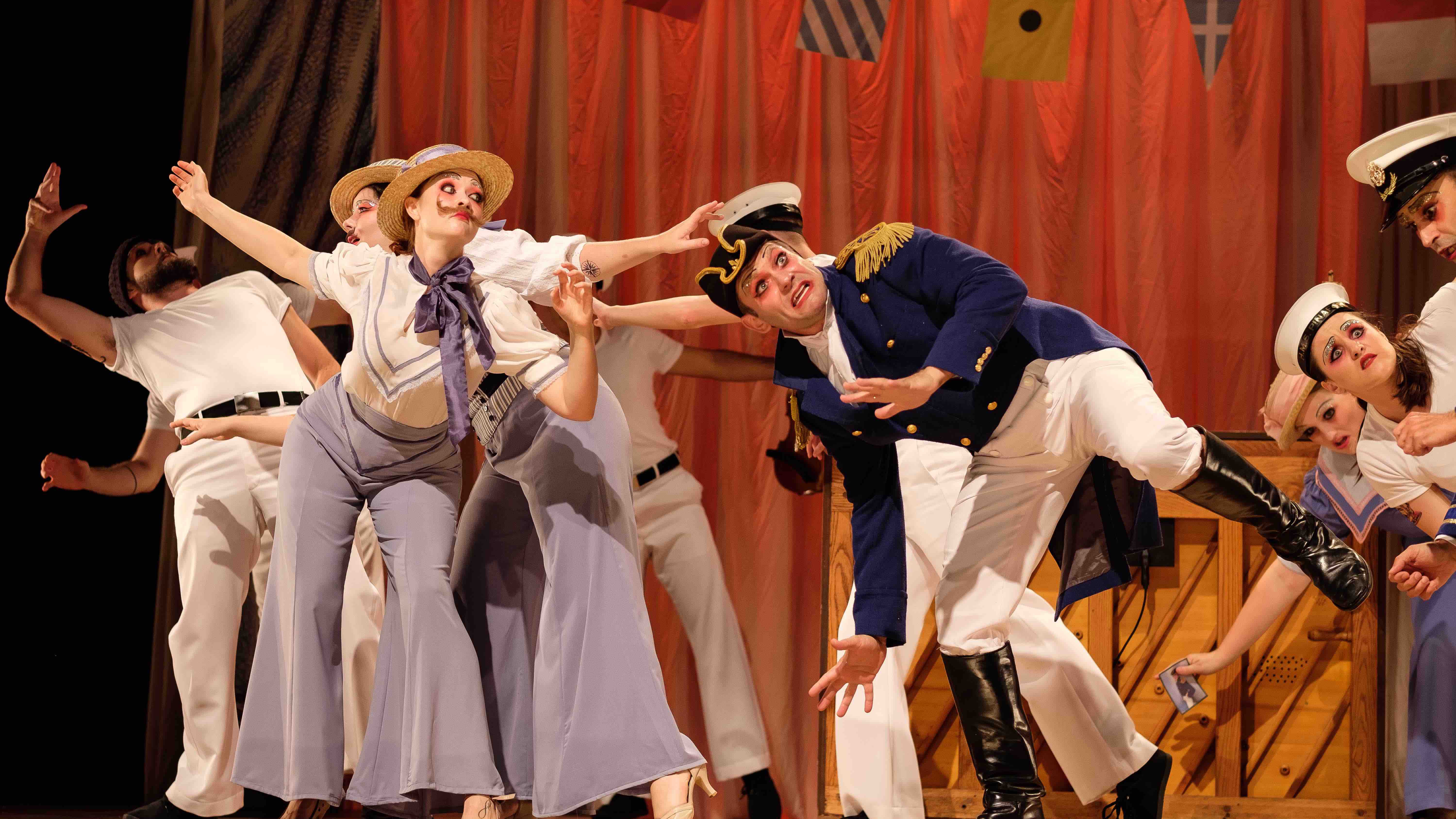 credit: Clare Hawley
What's the story?
The story takes us aboard H.M.S. Pinafore to witness the chaos caused when the captain's daughter, Josephine, falls for handsome young sailor Ralph Rackstraw. The captain, who has promised Josephine's hand to the first Lord of the Admiralty, tries to thwart their plan until Fate – in the form of a careless baby farmer named Little Buttercup – plays a shocking hand.
It is a whip-smart satire poking fun at patriotism, the Royal Navy's top brass and the British obsession with social class. For those reasons and more, Americans loved it and more than 150 unofficial "pirated" stagings were produced, making Gilbert and Sullivan household names while denying them a cut of the box office profits.
At least they made some money back on the first official Australian production, which played in Sydney in 1879, just a year after it opened in London.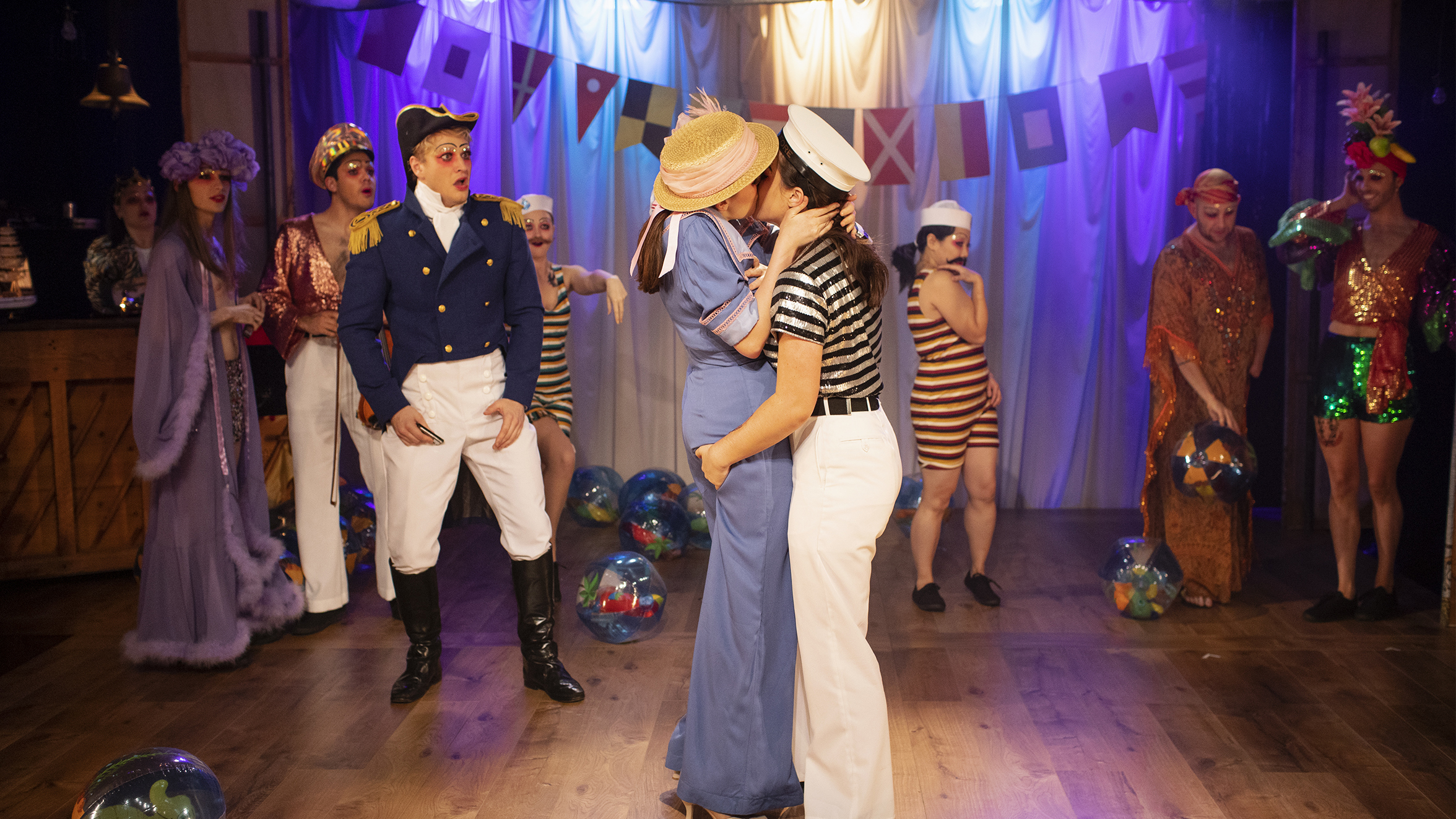 credit: Phil Erbacher
Haven't I heard that song before?
You probably have. Pinafore is a treasure trove of jaunty melodies and tongue-twisting lyrics and its songs have been recycled many times in pop culture. Trekkies will tell you "A British Tar is a soaring soul" featured in a Star Trek: Insurrection, sung by Captain Jean-Luc Picard and Worf in an attempt to reboot the malfunctioning synthetic crewman Data. West Wing fans might recall hearing White House staffers singing "He Is An Englishman", and Matt Damon sang "Poor Little Buttercup" in the 2006 movie The Good Shepherd.
And who could forget Sideshow Bob's solo performance of Pinafore at the climax of the classic 'Cape Feare' episode of The Simpsons?
This production is …
… Unlike anything Gilbert and Sullivan could ever have imagined. Created by director Kate Gaul, this production delighted audiences during its first season at the Hayes Theatre in Darlinghurst. Gaul's team of versatile actor-singer-musicians casts a queer eye over the love story and flips the gender of key characters, including Ralph, the jolly sailor of uncertain parentage. Poor Little Buttercup sports a distinct five o'clock shadow and Sir Joseph Porter – usually portrayed as a whiskery old dodderer – makes his first entrance bare-breasted and strategically coated in glitter.
The show ends with the cast signing a message with flags. Brush up on your semaphore before you go!
H.M.S. Pinafore (Siren Theatre Co)
Riverside Theatres
12–23 January